At the end of 2020 we all hoped to leave confusing times behind and look toward a more clear and certain future. We came out of the rabbit hole, so to speak, with the debris of loss as well as a fresh resilience and strength from those tough times.
Panache All Stars, the hair and makeup creative team in St. Augustine, were called to interpret their own transformative experience of life in a pandemic and social change by creating works of beauty through the lens of Alice and other characters leaving the chaos of wonderland behind. The production of this collection was cathartic for the featured hair artists, the photographer and all of the talent was involved in such a meaningful way.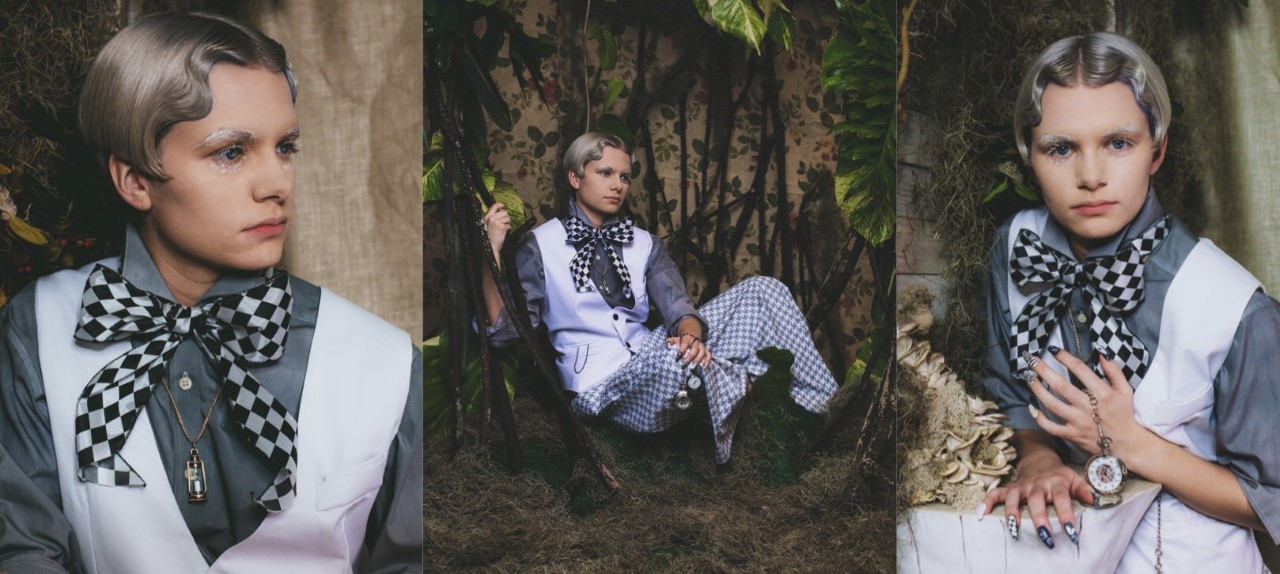 Juliana Koutouzakis
In Leaving Wonderland, I wanted to show the white rabbit as they took a deep breath and stopped living by the clock. The classic waves and grey palette represent a relaxed, middle ground to take pause. Like the white rabbit, I was always rushing from one place to the other, giving my time to everyone but myself. The lock-down in the spring offered me the chance to slow down, spend quality time with my family and take care of myself for once. Time was a gift that was especially precious, as I lost my mom to cancer that summer. She gave so much to others and by her example I want to give second chances to those who persevere through tough times in life. So, I started the Patricia Orsini Memorial Scholarship to help cosmetology students begin a new life through beauty.
 Thömas Phillips
The year 2020 presented me with unique and unfamiliar challenges that were equal parts painful and revelatory. Many times I saw myself as having lost the life I had created for myself. For this shoot, I immediately thought of the Queen of Hearts and her rage, egotism, and grandiosity. While I don't sympathize with her, this year showed me how a person can become that full of spite, and working on a likeness of her helped me process the trials and tribulations of 2020 without turning into her. I combined decadent regal stylings with a trashy casino aesthetic to tell a story of a disgraced queen escaping the rabbit hole only to find that the only "kingdom" she could claim is that of a tacky south Florida casino. I wanted to translate the imagery of the original queen into something that would fit into our world while satisfying her need for adoration. For her, the superficial glamour would be as close to her ideal as she can get. The Queen isn't exactly happy with the hand she's been dealt, but then again, we all have come to accept compromise this year and that feeling of making do is very relatable to me.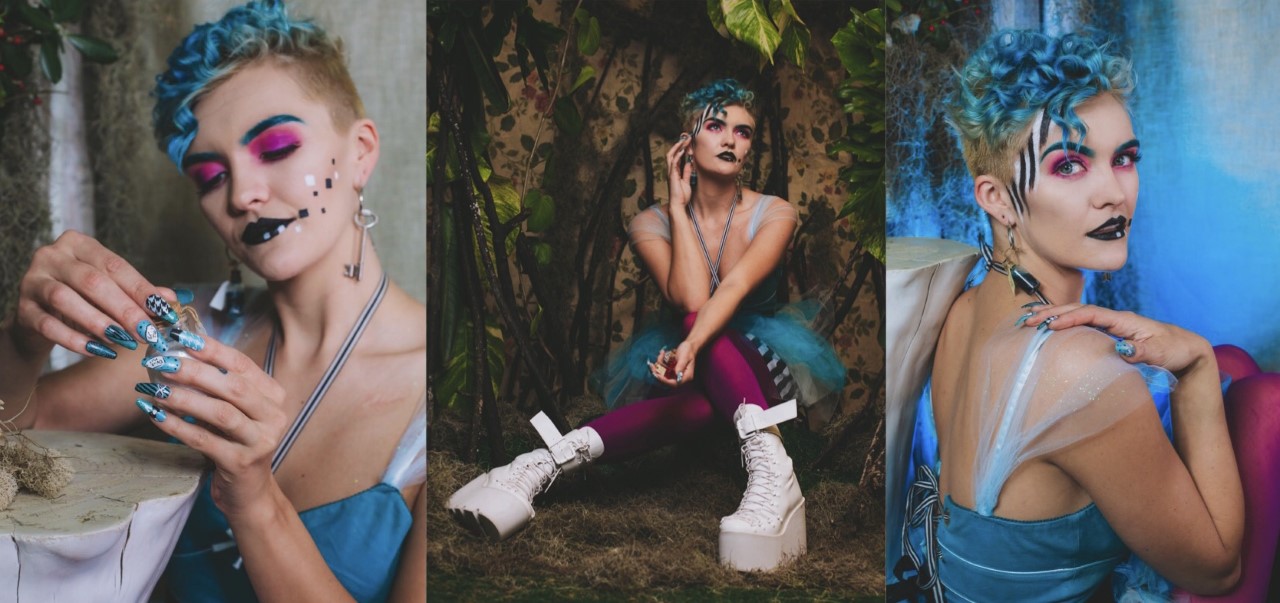 Samantha Bennett
2020 was a year for breaking away from what society deems normal. Letting go and letting the true self show, even if that self changes. Alice and I both have finally said I will be me. I won't let anyone tell me who I am. Alice has become her true form and let go. I wanted Alice to punk out, like, why not have blue eyebrows? Alice is out of the rabbit hole and out there. Just be yourself, let people see the real, imperfect, flawed, quirky, weird, beautiful, magical person that you are.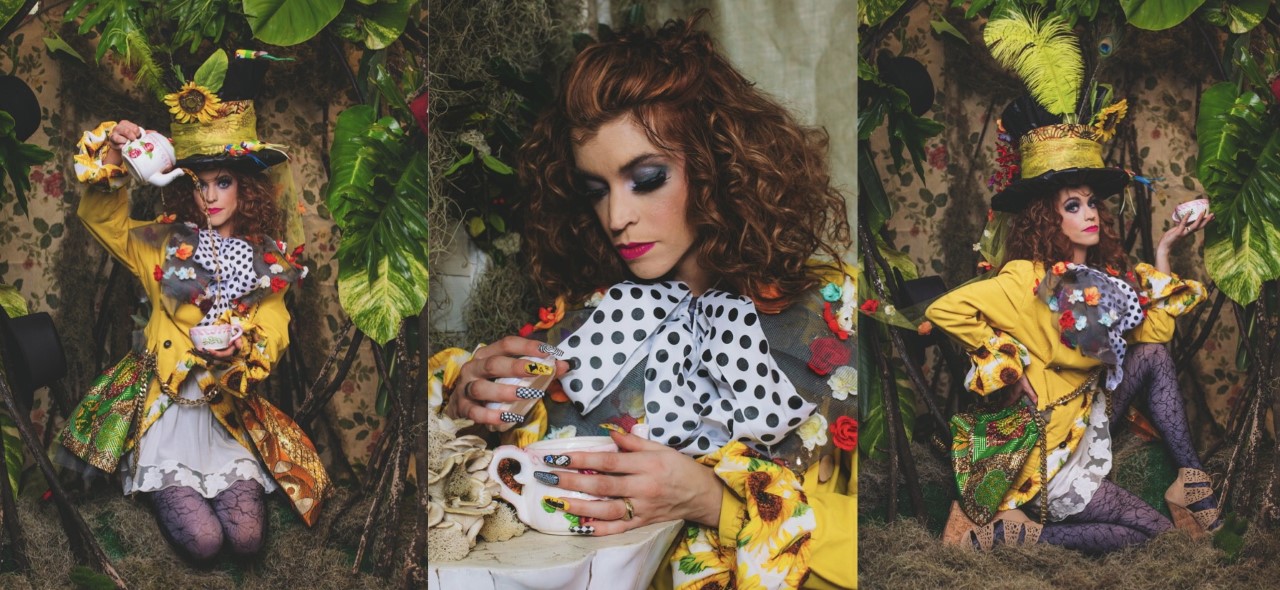 Lucero Gleaton
I have the opportunity to meet a real Mad Hatter in history, but he wasn't so mad. My father in law, Hutton Hollingsworth flew a B-26 marauder in World War II named The Mad Hatter. It was a privilege to meet him and listen to some of his stories. Like the Mad Hatter, he experienced madness from the poison of war, but he decided to make the best of his life. Like him, I realized I have triumphed over my own history too. I have come back after traumatic injuries with more motivation and creativity than ever. After all, all the best of us are a little mad.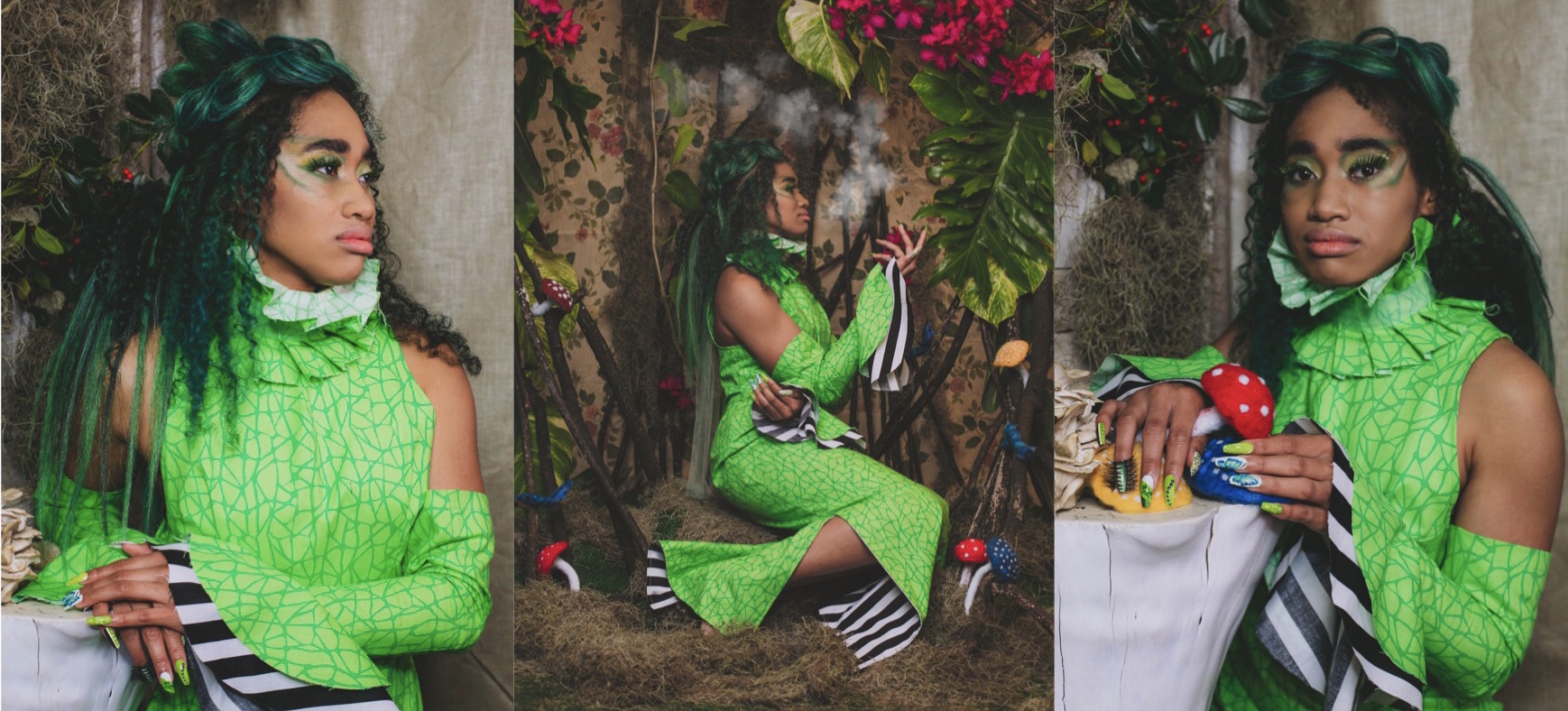 Phili Bland- Hairstylist
Absalom the caterpillar is a character I can see a connection with throughout the past year. Caterpillars are creatures of transformation, and for me, they also represent a great deal of fear since I have an intense phobia of them. Throughout 2020, I was faced by many fears and obstacles that I could only overcome by confronting them in order to grow into a better version of myself, like a caterpillar's transformation into a butterfly. Thus was a year of trials leading into metamorphosis. I learned that only through confrontation of my fears and challenges, there is beauty on the other side. To represent this, I used green which I see as a color of life and change, and mixed it with the contrast of smooth and curly textures of the hair to represent transition while taking inspiration from caterpillars for the shape of the design.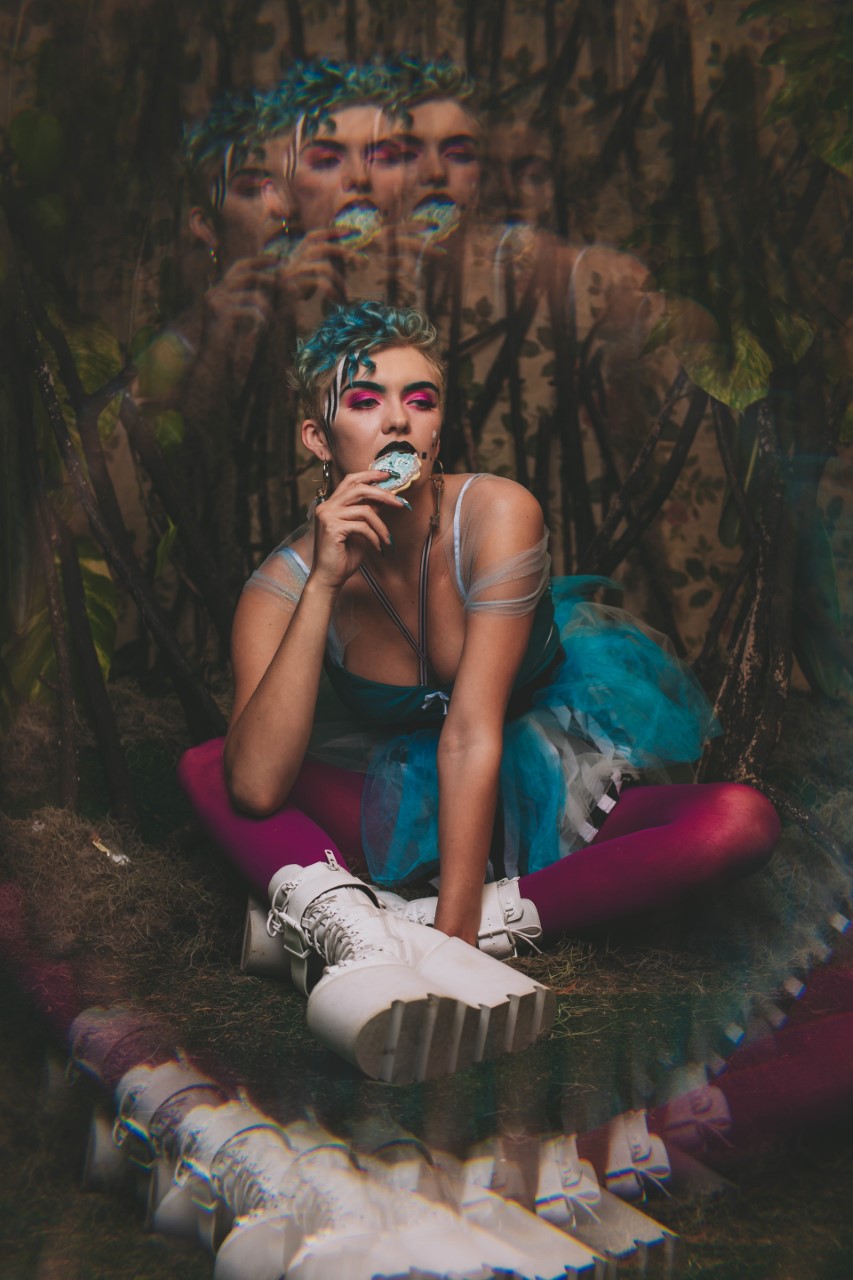 Carly Cristello, Photographer
In October of last year, I moved four hours away from my home for the last 9 years. Moving is never easy but I'm grateful for the loving family at Panache for making the transition a little easier. I've never felt more appreciated than I do by this amazing team. During this photo shoot I have learned so much and felt I have grown and expanded my photography career. I am excited to see how far this new journey will take me.
Art Director and Stylist Juliana Koutouzakis
Photography: Carly Cristello
Hair and makeup artists: Thömas Philips, Samantha Bennett, Lucero Gleaton, Phili Bland, Morgan Chancey
Nail artist: Dawn Outman
Models: Leo Szymanski, Shelby Winsco, Kayla Mullins, Bethany Taylor, Krysta Henry